The latest KPCB mobile statistics show that mobile now accounts for 51% of time spent online in the USA. It's more important now than ever to ensure that your site is capable of displaying correctly on all devices, including mobile phones, tablets, and larger screens.
Traffic from mobile devices in the US is twice as large as traffic from apps. And it's growing 1.2 times faster. Traffic for desktop traffic has remained flat since 2008. If the current trend continues, mobile will not only contribute more than 50% of visitors, it will produce the majority. While monetizing this growing audience has proved more of a challenge, the importance of catering well for mobile visitors to your website can hardly be overstated for any organization, irrespective of size or budget.
Many studies have shown how conversions are higher and abandonment rates lower when content is optimized for use on mobile devices. So how do you make sure that you are effectively addressing your customers on mobile devices?
Free Tool to Measure Website Performance on Mobile
A first step is to understand how well you are currently performing on mobile. Do you know how well your site performs on mobile devices? Are you looking for a tool to measure this? If so, you may want to look at mobiReady. First launched back in 2006, mobiReady has relaunched to offer some unique features as a tool to measure performance on mobile.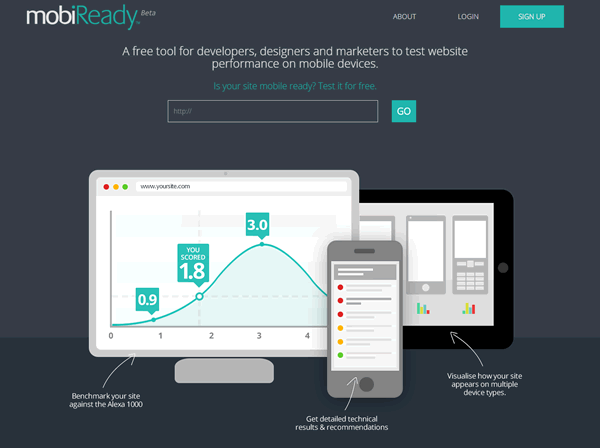 mobiReady provides:
Instant site visualization on a range of devices.
Site benchmark – how does your site compare with others?
Site score, your full test results, and how to fix recognized issues.
Get your Free mobiReady Account
Signing up to mobiReady gives you easy access to your past test results, letting you track performance and improvements over time. Registered users can also download PDF reports of their test results, ideal for sharing with your development team.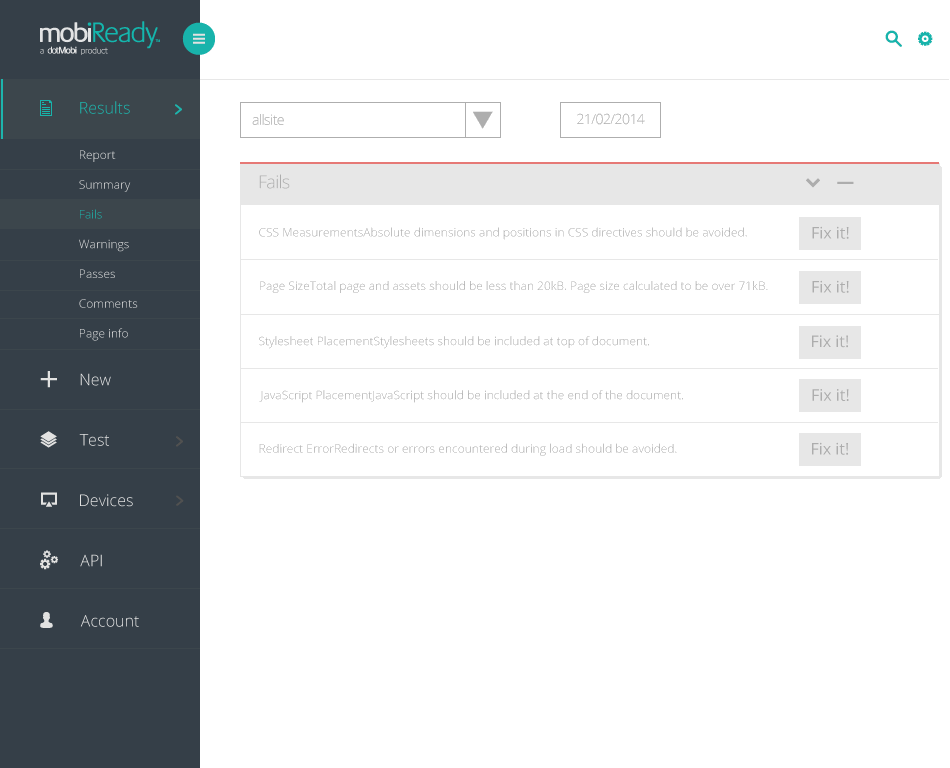 Track test results by signing up to mobiReady
Sign up today and find out how your site ranks. It's free to join and you may test as many sites as you like.
---
What is the answer to poor performance on mobiReady?
After testing your site with mobiReady, you may realize that your site is not as mobile friendly as you had thought. So what can you do about this? goMobi provides a simple way to create responsive websites without the development and test costs of a design agency.
The emphasis is placed on website creation, not coding, and goMobi comes with a powerful but easy to use CMS tool that enables you to create great websites quickly and easily. Your new goMobi site will be rich, fast and easy to browse from any device.